"There is no sincerer love than the love of food."

(Bernard Shaw)
The story of the event or experience, how it started and evolved to its current form, when it started, what is unique about it, how popular the experience is with locals/visitors to the area etc…
The first case study represents a protected heritage site of folk architecture in Stará Hora belonging to the municipality of the village of Sebechleby in the south of Central Slovakia. Stará Hora is in fact an area of traditional vineyards with a number of cellars situated in architecturally pleasing traditional houses. There is also a museum of local folk culture present that is managed by the municipality. The village of Sebechleby is each year organising festival of wine harvesting in Stará Hora that is regularly attracting thousands of visitors.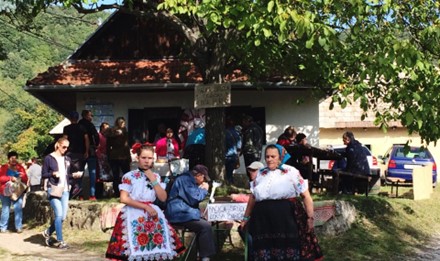 Tell the customer what they will get and why they should include this experience in their itinerary.
What food/beverage is included, what producers they will meet,
The visitors have a chance to partake in wine tasting in most of the cellars. Traditional food of the area of historical Hont county is also offered. There is also a number of exhibitions of folk art with a possibility to purchase different goods. Stages are hosting nvarious musicians, most of them presenting folklore in the form of songs and dancing.
List of Local Producers:
https://sebechleby.com/podnikatel/ubytovanie/
---
Stará Hora is located about 4 kilometres Northwest from the village of Sebechleby. The place is situated in the historical Hont region that is nowadays located in the South of Central Slovakia and North of Hungary just a few kilometres from Budapest. It can be accessed by road coming from Levice, Krupina, Veľký Krtíš or Šahy (Slovak-Hungarian border crossing). It is open year round with possibilities of parking, visiting local cellars and tasting locally produced wine and food products.
Find us here:
Find us on Goggle Maps