"Laughter is brightest where food is best."

(Irish Proverb)
Markthalle IX is one of the three surviving fourteen historical Berlin market halls built in the late nineteenth century that serve as food markets today. The others fell prey to the economic crises of the 1920s, wartime bombing and urban reconstruction or competition from department stores and, since the 1950s, supermarkets. Built in 1891, Markthalle IX is located in the eastern part of the former district of Kreuzberg (now Kreuzberg–Friedrichshain), which became a mecca of counterculture in the late 1960s when it also attracted a high share of mostly Turkish immigrants. After the fall of the Berlin wall, the once peripheral area, hitherto enclosed on three sides by the wall, suddenly found itself near the centre of the new German capital.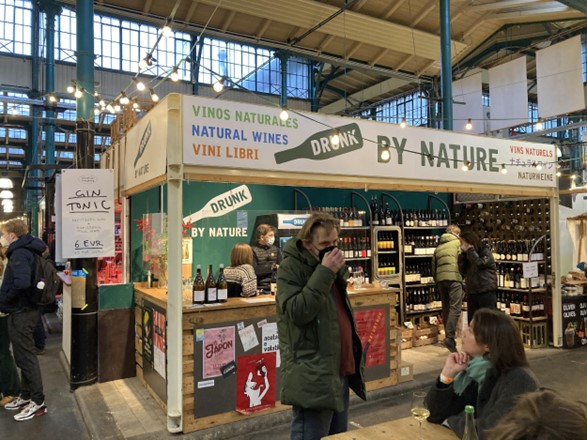 In the 2000s, the economically struggling market hall was marked for urban redevelopment as a supermarket, but a local civic initiative successfully lobbied the city administration to favour a concept that would promote small retailers along with social and cultural projects. Sold to a trio of entrepreneurs, the market hall was inaugurated on 1 October 2011. Its aim is to let urban customers "eat and shop differently" by respecting people, animals and the environment and by creating transparency and trust between producers and customers. One of its earliest events now takes place every other year under the motto "Farmer Meets Urban Consumer". Other events have included the Berlin Coffee Festival, Cheese Berlin, Raw Berlin – The Artisan Wine Fair, Wurst & Bier (sausage and beer), Brotzeit (all about bread), Naschmarkt (a sweets fair) and a Christmas market. While Markthalle IX remains strongly involved in social, cultural and culinary neighbourhood projects, it's mainly these events that have attracted foodies from across the city and, increasingly, visitors in search of Berlin's creative culinary landscape.
Markthalle IX's most popular attractions are its Street Food Thursdays, sadly suspended since the onset of the covid-19 pandemic, where local food and beverage startups present and sell their products, and its regularly organised thematic food and beverage events where visitors can participate in tastings and inform themselves about production and distribution as well as current food trends. They are also an occasion to mingle with local foodies while enjoying local and more exotic dishes and drinks. The market hall hosts a transparent bakery and butchery, a tofu manufacturer and a microbrewery as well as a canteen where visitors can look over the shoulders of chefs preparing healthy meals or take part in cooking classes.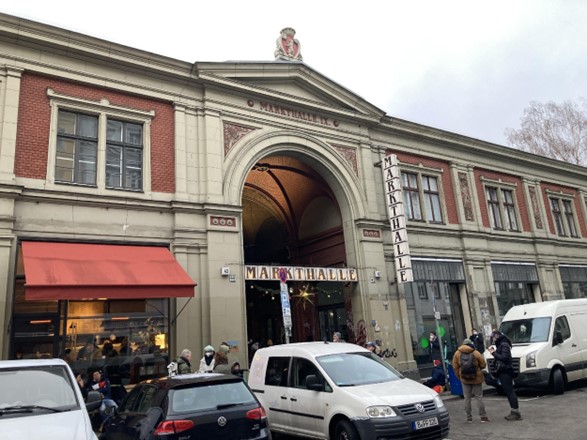 Its buzzing weekly markets on Friday and Saturday attract a variety of regional producers that offer fresh seasonal food while its retailers know the history behind the products they are selling. The market hall's gastronomic offer includes regional seasonal dishes at Marktlokal (Tue–Fri 6–11 pm), daily lunch and various brunches on Saturday prepared by the team bone. (Mon–Fri 12–4 pm, Sat 10 am–4 pm), Korean delicacies at NaNum (Sat 10 am–6 pm), mouth-watering meat dishes at Kumpel & Keule (Tue–Sat 9  am–6 pm), smoked BBQ at Big Stuff (Tue–Thu 12–4 pm, Fri–Sa 11 am– 6 pm), hand-made pasta at Mani in Pasta (Mon 12–6 pm,Tue–Sat 11 am–6 pm), the classic Berliner buletten and numerous fusion variants at Berlin Beef Balls (Wed–Sat 11:30 am–6 pm), delicious Turkish dumplings with a yoghurt and butter-peppers sauce seasoned with sumac and  mint at Manti Berlin (Fri 12–4 pm, Sat 10 am–6 pm), Turkish tapas at Meze Feinkost (Mon–Fri 12–6 pm,Sat 10 am–6 pm), Martin's Crêperie (Tue–Fri 12–6 pm,Sat 10 am–6 pm), Grün & Gut Bio Smoothies (Tue–Thu 12–4 pm, Fr 12–6 pm, Sat 10 am–6 pm), Kaffee 9 (Mon–Sat 7:30 am–6 pm. Sun 10 am–4 pm) and organic ice-cream at Rosa Canina (Tue–Fri 12–6 pm, Sat 10 am–6 pm).
List of Local Producers
Fish Klub Berlin Fish Klub Berlin, here and here.
Kumpel & Keule (meat and sausages), here and here.
The Sausage Man Never Sleeps (sausages), here and here.
Endorphina Backkunst (bakery)
Frau Zeller (bakery)
Mani in Pasta, here and here.
Sironi – Il pane di Milano, here and here.
Heidempeter's (microbrewery), here and here.
Monsieur Collard (wine and cheese)
Weinhandlung Suff (wine and cheese) and here.
Wüstenmokka (coffee) and here.
Ferhan Feinkost (Turkish sweets)
Gebana (dried fruit and nuts) and here. and here.
Roots Radicals (pickels, vinegars. etc.) and here.  ,
Berlin Beef Balls, here and here.
Big Stuff Smoked BBQ and here.
Bone.Berlin here and here.
Marktlokal, here and here.
Martin's Crêperie and here.
NaNum (Korean restaurant) Rosa Canina (ice-cream)
---
Markthalle IX
Eisenbahnstraße 42/43
10997 Berlin-Kreuzberg
U1 Görlitzer Bahnhof
Bus 140 Wrangelstraße
Opening Hours: Tuesday – Friday 12–6 pm, Saturday 10 am – 6 pm
(for individual producers check opening hours)
Street Food Thursdays 5–10 pm (temporarily suspended during the Covid-19 pandemic)) See also the calender of events: https://markthalleneun.de/kalender/
Find us here:
https://facebook.com/markthalleneun
https://www.instagram.com/markthalleneun/?hl=en
info@markthalleneun.de
Find us on Google Maps