"Life is too short to drink bad wine."

(France)
Back in 2015 there was a handful of new Craft Brewery's popping up in Ireland.
It is estimated that there were 63 microbreweries operating in Ireland at that time, of which 48 were production microbreweries (22 more than the previous year) and 15 contracting companies.
Microbreweries in Ireland in mid-2015 employed an estimated 312 people. (Double the number of 12 months previous).
The micro-brewing industry sources over half of its brewing ingredients by value domestically. For example, in 2015, almost 90% of microbreweries sourced supplies of malted barley from within the Republic of Ireland, typically amounting to 80% to 90% of all their malted barley inputs. Distribution is another source of local spin-off activity. In 2014, 41% of the output of the sector was channelled through wholesalers/distributors. Thus, there are significant downstream benefits for the agricultural and other sectors.
It is in this burgeoning landscape that a craft beer aficionado conceived the idea of the Midlands Craft Beer Festival, which has developed into an annual event in a small rural town in midlands Ireland.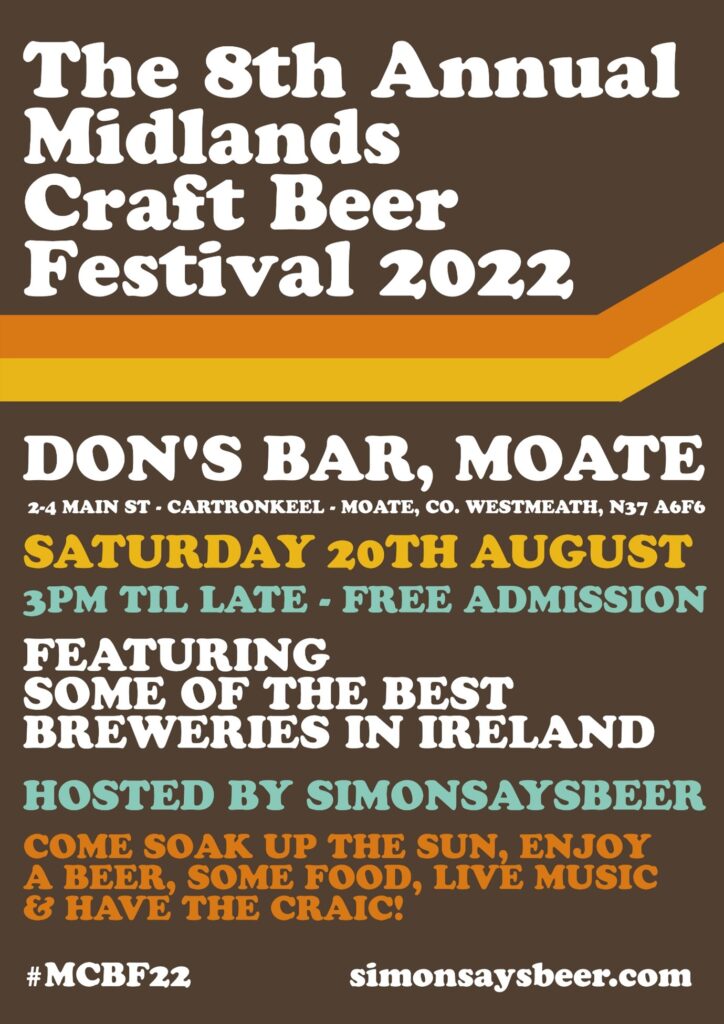 Simon Broderick, event founder:
The Midlands Craft Beer Festival was originally conceived as a fund raiser for the Moate All Whites football club. Don's Bar sponsor the local team and he suggested that we might do something as I knew a lot of the local breweries. I said it would be a bit of fun and agreed to put the wheels in motion. The whole reason that I started the blog in 2013 and the Athlone Beer Club in 2014 was to support the Irish Craft Beer scene and this tied in nicely. The inaugural event went well, with breweries coming from Sligo – White Hag, Roscommon – Black Donkey and Mayo – Reel Deel. Most import were the nearest brewery, Bo Bristle from Offaly, then head brewer Dave Guilfoyle being an enthusiastic early supporter of the event. At the time there were some large Dublin based beer festivals and the consensus was that the brewers were happy to participate in something smaller and more regional. Unfortunately the local GAA fans didn't turn out in large numbers in the first year but we decided to continue running the festival unaffiliated to any organisation and just for the love of it.
Midlands Craft Beer Festival takes place every year since 2015, unless there is a global pandemic… in which case the festival has been known to take place 'virtually' online.
Tell the customer what they will get and why they should include this experience in their itinerary.
What food/beverage is included, what producers they will meet,
The craft beer scene in the Midlands has developed significantly since 2015, and recent years has been represented by regular Wide Street Brewing from Ballymahon, Athlone's Dead Centre Brewery and Ballykilcavan Brewery from Laois. They are also joined by breweries from other parts of the country including Galway Bay Brewery and Rye River from Kildare. Lanesborough's Lough Ree Distillery are also while Monaghan's Nitro Ground – now trading as Bog Boy Booch offer nitro coffee and kombucha.Some live music and DJs keep the party going.
List of Local Producers
Ballykilcavan Farm and Brewery
Dead Centre Craft Brewery and Taproom
---
The venue is the large beer garden behind Don's Bar, Moate, County Westmeath, Ireland. The festival celebrates the best of local food, beverage and music.
There is no entry fee on Saturday but people are invited to make a voluntary donation to help offset the running costs.  Capacity is limited in the beer garden so it is advisable to arrive early.
Find us here:
https://www.facebook.com/Midlandscraftbeerfestival/
Find us on Google Maps