"At the table with good friends and family you do not become old. "

(Italy)
The title of this case can be freely translated as festival of tastes of Hont region. As the title says this is an event that is organised yearly in June. There are number of exhibitors there on the festival that are demonstrating preparation of their village specific foods and beverages. The visitors are able to partake in preparation of some food and, of course, they can also buy the food for consuming directly there or for taking away. Obviously, there are many side activities on the festival such as concerts or activities for children. The festival is organised in Dudince that is an important spa resort of the region and the whole country. Festival is being advertised on country level with international outreach as the organisers are using web marketing and social media for its advertising.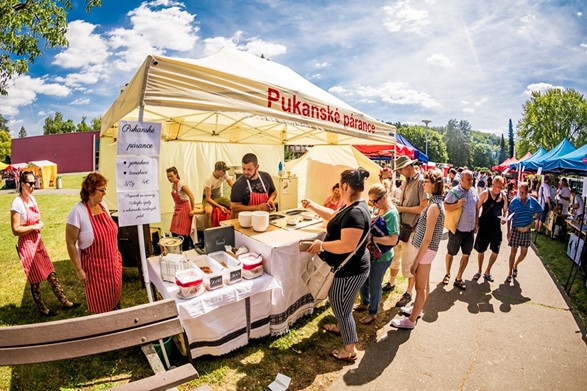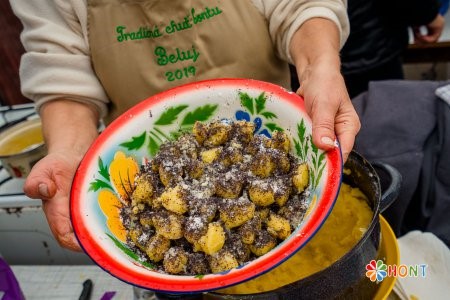 The visitors have a chance to taste many local foods and beverages as this is the goal of the festival. There is also a number of exhibitions of folk art with a possibility to purchase different goods. Stages are hosting n various musicians, most of them presenting folklore in the form of songs and dancing. Children can ride horses and partake in various activities. The town of Dudince also offers year-round access various spa resorts as it is famous for its healing water.
List of Local Producers
https://www.regionhont.sk/festival-hontianskych-chuti1,
https://www.facebook.com/events/dudince-online/festival-hontianskych-chut%C3%AD/2404993963113465/)
---
The town of Dudince  is located about 20 kilometres South from the local administrative centre, city of Krupina and about 25 kilometres North from the border with Hungary. The place is situated in the historical Hont region that is nowadays located in the South of Central Slovakia and North of Hungary just a few kilometres from Budapest. Easiest access is from the North (Zvolen, Krupina) but as the place lies alongside major road connecting Hungary and Poland via Central Slovakia, it is easily accessible also nfrom South (Budapest).
Find us here:
https://www.regionhont.sk/festival-hontianskych-chuti1,
https://www.facebook.com/events/dudince-online/festival-hontianskych-chut%C3%AD/2404993963113465/)
Find us on Google Maps